China is famous for being home to stunning historical and architectural wonders – you need only think of attractions like the Great Wall and the Terracotta Warriors. So amazing are these sites that it's easy to forget that China has a wealth of natural attractions too, from unusual wonders to havens of tranquility.
So, today we're going to give you a brief rundown of some of the loveliest and most interesting natural spots to see here. Meanwhile, those of you who fancy getting an idea of specific itineraries can so at TransIndus.
Dragon's Backbone Rice Terraces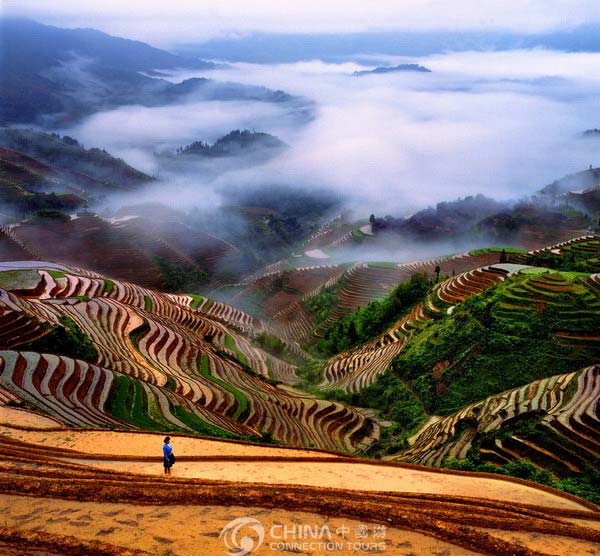 The first destination on our list is actually the result of people harmonising with nature. The Dragon's Backbone Rice Terraces, which are around 150 km from the city of Guilin, are farmed slopes that rest below Longji mountain.
They have gradually been turned into rice terraces (the farmers here use horse-drawn ploughs to this day), but ones that work in harmony with the natural undulations of the hillsides. What's particularly nice about them is that they look quite different depending on the time of year you visit – in autumn, they are golden brown, while in spring they are filled with water and give the appearance of gleaming silver bands across the slopes. In summer, they're beautifully green.
Tiger Leaping Gorge
Over in the Yunnan province is Tiger Leaping Gorge – a vast scar in the Chinese landscape that runs between the Haba Snow Mountain and the Jade Dragon Snow Mountain. Flowing through it is the Yangtze River, and following it on foot is a popular option among hikers.
This is one of three main trails you can tackle. For a great view of the gorge, you can walk along the footpath above the river – but it's important to remember that this route is really narrow and runs high above the river, meaning it's really only suitable for experienced trekkers.
The gorge becomes quite narrow at points – and this is, in fact, partly how it got its name. According to local legend, its title honours a tiger that once leapt across its narrowest point.
Shilin Stone Forest
Next up is the UNESCO World Heritage Site of Shilin Stone Forest. Part of the South China Karst region, this is no ordinary forest. Rather than being made up of trees, it consists of limestone rocks that, over millions of years, have been eroded into all kinds of weird and wonderful shapes.
We think this is easily one of the country's most impressive natural wonders – largely because it is just so unusual. You can amble around the pinnacles at your leisure, where, if you're prepared to head through narrow gaps, you can find small chambers and plenty of other fascinating sites.
The limestone here is around 270 million years old, so part of the charm of exploring the forest lies in the fact that you can really feel like it's a slice of history, as well as an incredible natural wonder.
Lugu Lake
One of the lesser-known natural attractions in China, Luga Lake (around 200 km from the city of Lijiang) is absolutely beautiful. Tranquil at all times of day, this horse hoof-shaped lake seems to change colour throughout the day, being orangey first thing in the morning, green in the shade of the hills during the day and dark green in the evening. It's also dotted with five islands, including Heiwawu Island, which is known for its bird population.
Another interesting thing about this place is that it's home to a rare example of a matriarchal society – the Mosuo people. Women here are the primary homeowners, raise the children (who adopt their mother's surname) and are in charge of production.