When most people think of trekking in Nepal, the likes of the Everest Base Camp trail and the Annapurna Circuit will immediately spring to mind. While these are outstanding long-distance walking routes, they are far from the only options for a holiday in Nepal.
Today, we're going to tell you about one of the other options: Mustang. This forgotten region of Nepal, which is actually part of Tibet, remains well under most travellers' radars. In fact, until the early 1990s, foreigners weren't even allowed to enter Mustang and it remains shrouded in mystery to this day.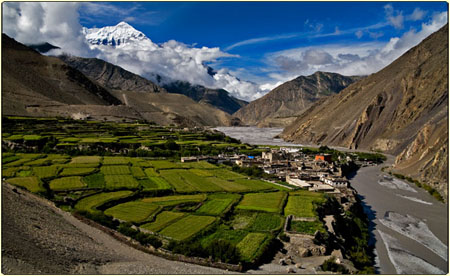 While it isn't the most famous of Nepal's hikes, it is truly outstanding and certainly one to consider if you want a real wilderness experience in the Himalayas. There aren't many tour operators who run trips to Mustang - Walks Worldwide is one example of a company that does, though – but this means you're unlikely to meet any other travellers for the duration of your hike.
What to expect when trekking in Mustang
The landscape in Mustang is quite different from what you'll find elsewhere in Nepal – aside, of course, from the towering mountains that dominate the skyline. This region is very arid though, with the mountain slopes largely barren. This does, however, allow you to fully appreciate the varying colours of the rocks, which range from shades of red and orange to grey and brown.
In terms of the trekking, it's not such a tough route as the Annapurna Circuit or the hike to Everest Base Camp, but there are still challenging mountain passes and uphill sections that will test you. The landscape itself is stunning in a rugged way, with the imposing mountains and vast Tibetan plateau among the standout features.
Another thing to look out for is the Kali Gandaki Gorge – not that you could really miss it – as this is one of the deepest canyons on the planet, with walls over 5,500 m high in places. These spectacular natural sights are among the highlights of a trip to Mustang, but they are not the only reason to visit.
Uncover Tibetan culture
One of the wonderful things about a trekking tour in Mustang is the chance to engage with local villages and learn more about the unique Tibetan culture that has been hidden from the western world for decades.
There are many small villages dotted around Mustang, and you'll pass through a few of them, but the highlight is exploring Lo Manthang, once the capital of this region.
This city may be small by modern standards, but you can feel the history in the atmosphere as soon as you arrive. There are 6 m high earthen walls surrounding the settlement and within are some important temples and palaces that you can discover.
Two of the oldest monasteries here – Jampa Lakhang and Thupchen Lakhang – date from the 15th century and are certainly worth your time, while the more recent addition of Choede Lakhang in the 18th century is another site you should explore.
One of the most unmissable buildings in Lo Manthang is the King's Palace, which is five storeys high. Because the inhabitants of the city are Tibetan – and because their society remained cut off from the outside world for so long – there are many traditional rituals and ceremonies that take place here that you won't see elsewhere in Nepal. If you're lucky enough to be visiting when there are religious festivals going on, do take the time to get involved and experience another side of local life.